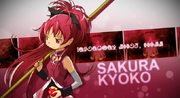 A rival Puella Magi who comes to the city later in the story. A girl with red-colored long hair and an equally fiery personality to match. Amusingly, she is always seen eating something, even while she is battling.
She comes from a poor church family and used her wish so that people would listen to her father's preachings. However, when her father learned of this, he went mad and killed his entire family before killing himself. As such, Kyoko decided only to use her magic for herself, since using it for others will only cause despair.
Having grown up in a poor family, she often has to steal food and hates wasting it, a logic she also applies to Grief Seeds, as she only goes after fully grown witches.
Kyōko wields a spear which can extend itself, split into multiple sections, and produce a ball at the end of the chain, which can constrict and hit others at the same time. She seems to be able to change the size of the spearhead as well.
Major Spoiler
Prior to Sayaka's transformation into a witch, she feels great loss due to the fact that Sayaka was suffering from the same mistake that Kyoko did. Due to Kyubey's double speak, Kyoko believes their might be possibility of reviving Sayaka's soul gem, thus bringing Madoka to Sayaka.
At the end, Sayaka could not be saved, and Kyoko choose to suicide bomb herself with the soul gem being broken. Both Sayaka's witch and Kyoko disappear in explosion.
Kyoko is the only character who is the most affected by Sakaya's death in the both the previous timeline and the new world created by Madoka, even though she described her relationship with Sayaka as "finally being able to become friends". This lends credence to speculation that Kyoko's feelings for Sakaya go beyond that of normal friendship.
Before she disappears in the explosion Kyoko prays and then kisses her soul gem (It is customary for Catholics to kiss their rosary beads as a part of their prayer). After she does this she is not seen again.