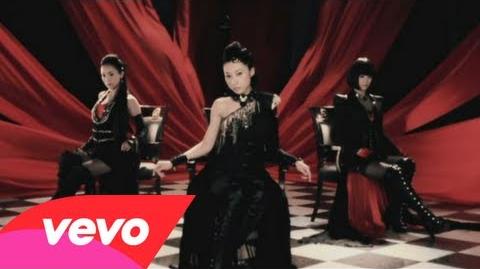 Magia is a song by Kalafina, and it is the ending song of the series.
Lyrics: Romanji
Edit

itsuka kimi ga hitomi ni tomosu ai no hikari ga
toki o koete
horobi-isogu sekai no yume o
tashika ni hitotsu kowasu darou 

tamerai o nomihoshite
kimi ga nozomu mono wa nani?
konna yokubukai akogare no yukue ni
hakanai ashita wa aru no? 

kodomo no koro yume ni miteta
inishie no mahou no you ni
yami sae kudaku chikara de
hohoemu kimi ni aitai
obieru kono te no naka ni wa
taorareta hana no yuuki
omoi dake ga tayoru subete
hikari o yobisamasu
negai 

itsuka kimi mo dareka no tame ni
tsuyoi chikara o nozomu no darou
ai ga mune o toraeta yoru ni
michi no kotoba ga umarete kuru 

mayowazu ni yukeru nara
kokoro ga kudakete mo ii wa
itsumo me no mae no kanashimi ni
tachimukau tame no
jumon ga hoshii 

kimi wa mada yume miru kioku
watashi wa nemuranai ashita
futari ga deau kiseki o
kachitoru tame ni susumu wa
obieru kono te no naka ni wa
taorareta hana no yaiba
omoi dake ga ikiru subete
kokoro ni furikazasu
negai 

torawareta taiyou no kagayaku
fushigi no kuni no hon ga suki datta koro
negai wa kitto kanau to
oshieru otogibanashi o
shinjita
(hikari to kage no naka) 

shizuka ni sakimidarete ita
inishie no mahou yasashiku
sekai o kaeru chikara ga
sono te ni aru to sasayaku
owaranai yume o miyou
kimi to yuku toki no naka de
omoi dake ga ikiru subete
inochi o tsukuru no wa
negai

Lyrics: English
Edit


Someday the light of love you lit within your eyes
will transcend time,
and surely destroy one of the dreams 
of a world racing towards destruction. 

Now that you've drunk dry your doubts,
what do you desire?
Will there be a fleeting tomorrow
at the end of this path of selfish yearning? 

Like the ancient magic
I saw in my dreams when I was young,
I want to see you
smiling with the power to destroy even darkness.
In these trembling hands,
I hold a broken flower's courage.
I rely on my feelings alone.
A wish
that will wake the light. 

Someday perhaps you, too, will desire power
for another's sake.
On the night when love captures your chest,
unknown words will spring forth.

If I can follow my path without wavering,
I care not if my heart shatters.
I wish I had a spell
to stand against the sadness 
that's ever before my eyes. 

For you, dreams of memories,
For me, a sleepless tomorrow,
but I'll continue to fight for
the miracle of our meeting.
In these trembling hands,
I hold a broken flower's blade.
I live for my feelings alone.
A wish
held aloft in my heart.

Back when I loved books about wonderlands
where a captive sun shines,
I believed the fairy tales
that told me all my wishes would come true.
(Amidst the light and shadow) 

The quietly blossoming
ancient magic gently whispers to me, 
'In your hands is the power to change the world'.
Let's dream a neverending dream
in the time I have with you.
I live for my feelings alone.
My wish,
'To create life'.

Ad blocker interference detected!
Wikia is a free-to-use site that makes money from advertising. We have a modified experience for viewers using ad blockers

Wikia is not accessible if you've made further modifications. Remove the custom ad blocker rule(s) and the page will load as expected.